How can I chat with other players?
There are 3 different ways to chat with other poker players, depending on who you want to chat with and how you would like to do it.
These are the current chat modes available:
Table Chat

Team Chat

Private Chat



Table Chat
You can publicly chat while you are playing in a poker saloon. To send your messages, just click/tap on the chat bubble that you can find in the lower left corner of the screen.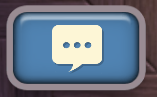 You can choose 4 different ways to send your messages to the table:
Chatbox
Type your own message to all the players at the table and type enter to send it. Please note that you cannot send any private messages when you are playing.
Emoji
Choose from several emojis to express your feelings and mood at the table.
Predefined messages
Send a message that best fits the situation from a list of predefined messages.

Chat suggestions
During a poker game there will also be displayed some chat suggestions at the bottom of the screen.These are to easily help you give a quick reaction to a poker situation.
If you don't like the chat suggestions, you can turn them off in the settings.
Team Chat
When you are in a team you can chat with your teammates by opening the Team screen. To access it, just click/tap on your Team icon displayed at the top of the screen.
From the Team menu, you will be able to chat privately with your team members at any time.
You will see who's online and where your teammates are playing, so you can easily join them at the tables by selecting the cards icon displayed next to their usernames.
In addition to that, the Team Chat will also be available at all times in the game, even while you're playing at the saloons.
Private Chat
If you want to chat privately with any of your poker friends, just select the Friends Menu icon displayed at the top of the screen. After that, select the bubble chat icon that will be shown next to your friend's username.

A chatbox will be displayed and you will be able to send your own private messages to any of your friends. Please refrain from sharing any personal information.